MicroSD Card Multi-Partitioning For SCSI2SD (S‑750 / S‑760 / S‑770 Only)

Note: All references to the SCSI2SD Board apply only to the v5.0α SCSI2SD Board. It is unknown if any other board versions will work
Ray Bellis has generously made available a very useful Command Line script for Mac OS/X and LINUX and an XML file which will configure the SCSI2SD board and also multi‑partition a microSD card for use with a SCSI2SD and the S‑750 / S‑760 / S‑770 samplers. This is extremely handy because it effectively sets up a MicroSD card into four equal partitions. This enables each of the four partitions to hold the equivalent of one CD‑ROM *.ISO file. Loading CD‑ROM sample discs has never been easier!
When trying to use the Mac OS/X built-in GUI
"Disk Utility
" program, I've had zero success partitioning a MicroSD card into four equal sections and make it work with a SCSI2SD board. The Mac
"Disk Utility
" program has a mind of its own and will only create four equal partitions which are either too large or will start at the wrong sector(s). This Command Line utility script by Ray performs the needed magic. If you have some basic experience with using the Mac O/S Terminal, UNIX or LINUX, the commands are very simple to use and instructions are included in the readme file. The *.XML file also contains useful comments about advanced features when using it to configure the SCSI2SD board. Configure the SCSI2SD device as shown in the image below, then SAVE the configuration back to the SCSI2SD device. The key to this new configuration scheme is to configure the SCSI2SD device by turning off the AUTO Start Sector setting, use offsetting sectors for each SCSI device and then set a new size for each virtual CD‑ROM device (781.25 MB). Follow the instructions provided by Ray Bellis in his readme.txt file for copying CD‑ROM *.ISO images onto the new partitions using the "dd" utility
The setup is in three parts
To use this configuration, you must use a MicroSD card 4GB (or larger)
Part 1
‑ Create four partitions on a 4GB
(or larger)
MicroSD card using
scsi2sd_4x800M.partitions.img
with the
"dd"
command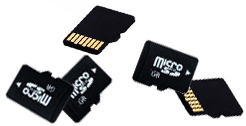 (The MicroSD card should be plugged directly into the computer, NOT the SCSI2SD device)
Part 2
‑ Copy your CDROM *.ISO files onto the MicroSD card partitions using the built‑in
"dd"
command
(The MicroSD card should be plugged directly into the computer, NOT the SCSI2SD device)
Part 3
‑ Configure the SCSI2SD board by using the
scsi2sd_4x800M.cfg.xml
file and the
scsi2sd‑util
utility
(The SCSI2SD board should be attached to the computer via a micro‑USB cable)
I can't stress this enough ▻ ▻ ▻ It is very important to note that you must be absolutely sure that when using the "dd" command, choose the correct device for your MicroSD card. If an internal or external hard drive is associated with /dev/disk2, the example commands in the "readme" file will need to be changed or else you might accidentally erase the main hard drive on your computer!


SCSI2SD and MicroSD Partitioning Configs by Ray Bellis (for S‑750 / S‑760 / S‑770 Only)
To save time, you can load the
scsi2sd_4x80M.cfg.xml
configuration file contained inside the ZIP file
LOAD it into the SCSI2SD device using the
scsi2sd‑util
utility and then SAVE the configuration back to the SCSI2SD device
Configure up to four SCSI devices and set them up as shown in the image below
Select a Device tab 1, 2, 3 or 4
Place a checkmark to Enable SCSI Target
Choose a SCSI ID from 0 to 6
Device Type = CDROM
SD card start sector (this varies depending on the Device#) = Device #1 = 63 / Device#2 = 1600063 / Device#3 = 3200063 / Device#4 = 4800063
Auto = OFF
Sector size (bytes) = 2048
Sector count = 400000
Device size = 781.25 MB
The remaining parameters are arbitrary and may be left blank (Vendor ‑ Product ID ‑ Revision ‑ Serial Number)