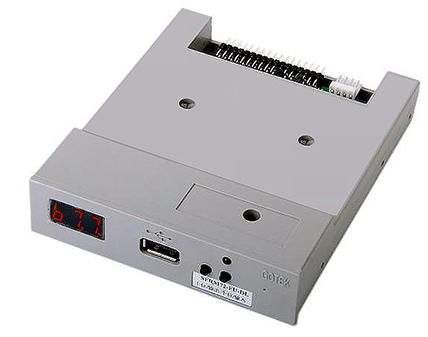 S-760 USB Floppy Drive Emulator (USB/FDE)
I was able to find an inexpensive solution for connecting a USB/FDE to my S‑550 and W‑30 sampler so I wanted to do the same for my S‑760. Easier said than done!!! After a lot of trials and
(mostly)
errors, I finally found a way using Jumpers which are not supposed to be used ;^)
It is important to note that this is not a 100% functional replacement for the original 3.5" Floppy Disk Drive on the S‑760!
Why? Roland incorporated a more expensive 3.5" FDD which serves a dual purpose of reading and saving both low density 720KB DD/DS and high density 1.44MB 2HD/DS disks. This means that you are able to use the
"Convert Load"
command to convert S‑550 & W‑30 disks over to the S‑760 format. This generic GOTEK model is
NOT
able to read S‑550 & W‑30 low density 720KB DD/DS disk image files. Thus, it is unable to use the
"Convert Load"
command. However, you are still able to use the preferred method which is to take a hard drive filled with S‑550 & W‑30 sound disk data and perform the
"Convert Load"
command
Model:
SFR1M44-FU-DL USB Floppy Drive Emulator for Roland 1.44MB
Cost:
$35 (USD) + FREE Shipping
(Item arrived in 10 days... from China to East Coast USA)
eBay Seller:
e2WholeSale
I recommend buying this model from this same vendor since I know it works OK. There must be 100 other emulators, all different models and some are counterfeits
So... just to make it perfectly clear, this GOTEK model will NOT load S‑550 or W‑30 disk image files into the S‑760 because S‑550 and W‑30 disk image files use a lower density disk drive format @ 720KB

The
Hardware Installation
,
Software Installation
,
Loading Samples
and
Saving Samples
instructions found on the
DIY Page
are identical except for these
Jumper Settings
You will need to use these Jumper Settings on the USB/FDE to make it work with the S‑760

     JUMPER     POSITION       FUNCTION
       J5       OPEN           (not used)
       JA       OPEN           Generates a READY signal on pin 34 of the floppy driver interface
       JC       OPEN           (not used)
       JB       JUMPER         (unknown)
       S0       JUMPER         Drive Select 0
       S1       OPEN           Drive Select 1
       MO       OPEN           Motor Select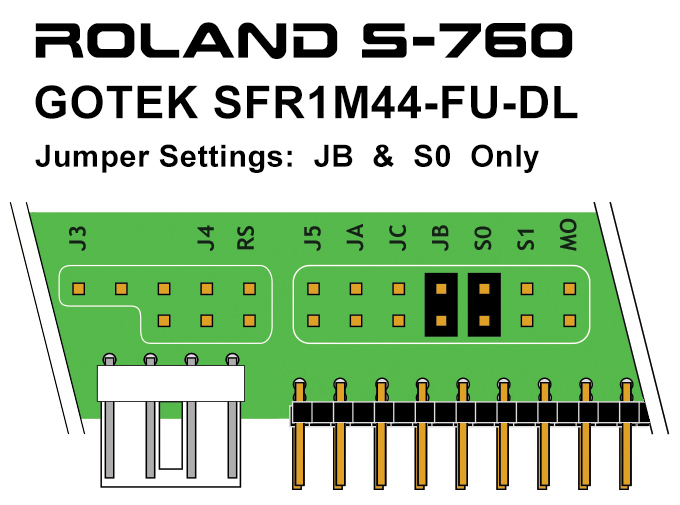 Installation Notes
The original 4‑wire power cable for the FDD inside the S‑760 will not reach from the Main Board to the new GOTEK. You will need to perform a simple modification to the power cable and make it a couple of inches longer or buy a 4-pin extension cable


As an option, before installing it inside the S‑760 case, I highly recommend the Mini Toggle Switch Mod DIY which makes loading and saving sample disks 100x easier. The cost is only 50¢ and installation is quite easy


If needed, you can find the current S‑760 System Boot Disk v2.24 at the INFO Page. Rename the file to 000.IMG and place it inside the IMG144 directory on the flash drive
---
So... the big question now is,
"Will this work with my S‑750, S‑770 or DJ‑70 sampler?"
From looking at the S‑750 and DJ‑70 Service Manuals, the 3.5" FDD model used is the FZ‑357 which is
identical
to the S‑760. I would say chances are
very good!
However, the S‑770 Service Manual shows the 3.5" FDD model used is the FX‑357. I don't know how this differs from the FZ‑357!?! These questions will remain unanswered until I get actual feedback from S‑750, DJ‑70 and S‑770 owners who can verify a working installation
Update 04/29/2017
I received an eMail from an S‑770 owner who has successfully connected this 1.44MB model GOTEK to his S-770 sampler. He reports that it is working. The only
"gotcha's"
are:
1) For some bizarre reason, even though the S-770 3.5" disk drive reads and writes 1.44MB disks, Roland issued the main S-770 System Disk on a 720KB floppy disk!?! This model GOTEK is unable to read 720KB disk image files including the "official" Roland S-770 System Start-up Disk unless it's converted over to a 1.44MB 2HD/DS density *.OUT file. How to do that? He got around that problem by using Omniflop to copy the 3.5" system disk and then saved it as a 1.44MB *.OUT file
2) The S‑770 always goes out to the GOTEK to see if there is a disk to boot from. If there is, it will never boot from the internal SCSI hard drive. I
think
the solution is explained over at the
S‑550/W‑30 Hard Drive Boot webpage
i.e. Just fool the S‑770 into thinking there is no floppy disk in the drive by ensuring a "non S‑770" 1.44MB *.OUT file is loaded into the
000
GOTEK flash area



Edit: I've posted a 1.44MB 2HD/DS density *.OUT file Start‑Up Disk for the S‑750/S‑770 for downloading
This is untested because I only have the S‑760
Please send me an eMail if you have success using this file with an S‑750 or S‑770 . Thanks!

S‑750/S‑770 Start-Up Disk Image File v2.25 (1.44MB 2HD Format)

After unzipping the file, rename S770_OS_SYS772_V2_25.img to 000.IMG if using it with a GOTEK 1.44MB USB/FDD
- or -
Rename S770_OS_SYS772_V2_25.img to S750S770.OUT if using it with OmniFlop to create a physical 3.5" Floppy Disk
---